This project has received funding from the European Union's 7th Framework Programme for research, technological development and demonstration under grant agreement no 320021
READi for Health – Developing and promoting eHealth innovation. An EU -project, which started on 1st September 2013 and ends at 31st August 2016.
Uptake and spread of eHealth innovations are critical if we are to address the health and economic challenges posed by an ageing population, increasing prevalence of chronic disease and tightening financial constraints.
The European FP7-REGIONS program funded project READi (Regional Digital Agendas for Healthcare) will support four European regional clusters to facilitate faster uptake of their eHealth innovations. The project will deliver a Joint Action Plan to promote the eHealth ecosystems in Murcia (ES), Skane (SE), Oulu (FI) and Midi-Pyrenees (FR). Key areas of focus include clinical data exchange, cloud computing and mobile security, while promoting Pre-Commercial Procurement and facilitating internationalization of eHealth companies.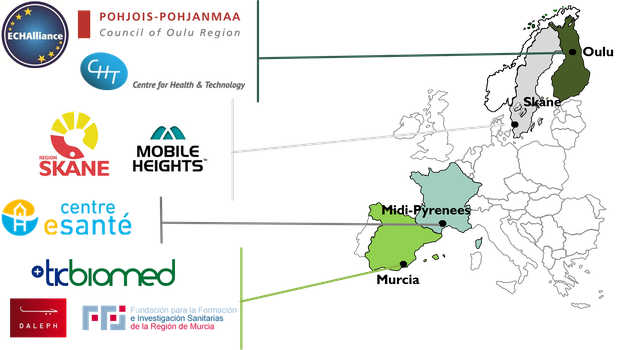 READi for Health clusters will join forces to prepare and specialize their regions for quick uptake of eHealth innovation, validation under real-world conditions, and cost-benefit assessment. Cutting-edge companies (even from other regions) will be welcomed to apply for technology testing within the mature Healthcare Information System regional landscapes of the consortium and, if considered of public interest, supported in its implementation and economic assessment.
For this to become a reality, new Public Private Partnerships and purchasing mechanisms like Pre-Commercial Procurement need to be used. Also, technological development to facilitate quick incorporation of innovation has to be fostered.
In particular in the areas of:
Semantic Interoperability and Standards.

Cloud Computing.

Secure information access from any device.



The four leading eHealth regions with highly competitive research-driven clusters in Information and Communication Technology for Healthcare. Spain, Sweden and Finland are recognized leaders in eHealth, and France represents a big central European market that is rapidly gaining traction. Each region contribute with specialized and complementary expertise in the respective scientific and technological topics related to the EU Digital Agenda. 
The major limitation of the eHealth market today is not scarcity of technology, but that innovation up-take is slow compared with other sectors not depending on Public Administration. As a consequence, European public sector expenditure has not been used to spur innovation. However, with an aging population and under current economic conditions, it is critical to facilitate its incorporation to raise the efficiency and quality of healthcare delivery.
READi for Health strengthens the research potential of four leading eHealth regions (Murcia, Skåne, Oulu and Midi-Pyrénées) by supporting their triple helix clusters to become world-class players in domains related to the EU Digital Agenda for the Healthcare market.